Blockchain Offers Rural Philippine Banks a Way to Boost Loans
Blockchain technology offers an opportunity for smaller banks in the Philippines to boost lending and offer other financial services in rural areas, according to Union Bank of the Philippines Chairman Justo Ortiz.
Union Bank is experimenting with the use of blockchain for remittances, allowing overseas Filipino workers to send money home quickly and efficiently and exercise greater control over who receives the funds and how they're used, Ortiz said in an interview with Bloomberg Television on Tuesday.
By plugging the 500 or so Philippine rural banks into the system, the lenders would get detailed information on the income individuals or families receive from remittances, he said. That would give them greater comfort to offer loans and other banking services to people who often fall outside the formal financial system, he added.
Union Bank recently piloted a blockchain-based remittance between Singapore and the Philippines together with Oversea-Chinese Banking Corp.It now hopes to create a "national footprint" of rural banks to use the technology, Ortiz said.
Remittances from overseas Filipino workers rose 3.1% to a fresh recordof $28.9 billion in 2018, with gains from the U.S., Canada, Asia and Europe offsetting a 15.3% decline in inflows from the Middle East, according to central bank data. The flow of money is expected to rise another 3% this year.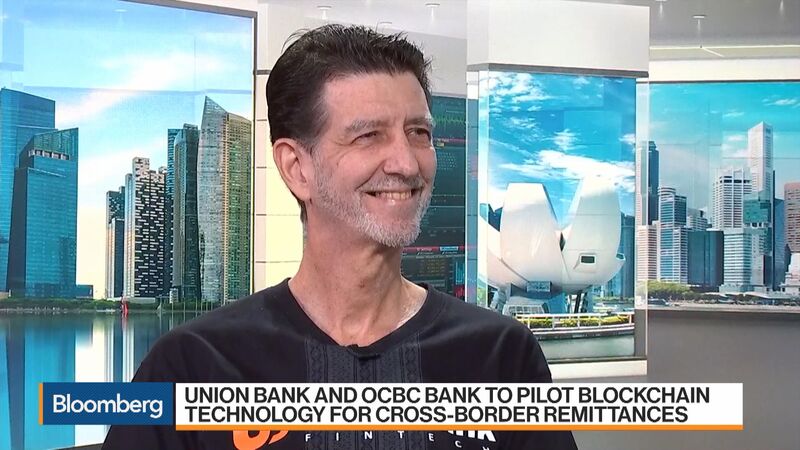 The bulk of the funds arrives back home in cash, which gives the overseas worker little control over who ultimately gets the money or how it's used, said Ortiz. It also forces Filipino families to rely on loans from local money-lenders, often at exorbitant interest rates.
Using blockchain and a self-executing, programmable token, the overseas worker will exercise much greater control over the destination and use of the funds back home, Ortiz said.
By Haslinda Amin and Cecilia Yap